<
'Karl's Bavarian Brass' oompah band - online
Welcome
Coronavirus
Taking bookings for late Summer 2020. Bookings are flexible until normal Oompah life resumes.
For now: Stay Safe! Stay Home!
Karl's Bavarian Brass are one of the most entertaining and exciting Bavarian oompah (umpah) bands, recreating the atmosphere of the Oktoberfest at it's best!
They are an enthusiastic four piece band that recreate the thigh-slapping magic and energy of the Hoffbrauhaus, encapsulated in a full audience participation, two and a half hour show!

This is not just oompah..........
Words you may associate with Karl's Bavarian Brass. "Live Oktoberfest German music, with singing and thigh slapping for a fun party. For your show, beer festival, fete or corporate venue. All creating great opportunities for brilliant videos and photos! Karl's Bavarian Brass, probably the best Oompah band in the U.K. and the World!
To contact the band telephone: 01283 760348, 07968 548201 or email karl@oompah.net
Quote by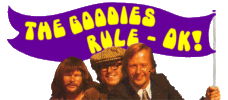 Tim Brooke-Taylor:
"You made a lot of respectable people behave very badly!"
VE HAV VAY'S OF MAKING YOU HAPPY